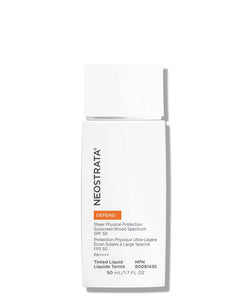 [Defend] Sheer Physical Protection SPF50
Neostrata Defend Sheer Physical Protection SPF 50 provides broad-spectrum protection to shield your complexion from both aging UVA rays and burning UVB rays. It combines potent antioxidants with a Polyhydroxy Acid (PHA) complex to protect and strengthen skin's moisture barrier against environmental aggressors. Formulated exclusively with mineral sunscreens: Zinc Oxid and Titanium Dioxide.

This mattifying fluid sunscreen features a universal tint that blends perfectly with most skin tones, and is enriched with antioxidants to guard against free radical damage. The formula absorbs quickly and doesn't leave a greasy finish. It creates a smooth surface for subsequent makeup application.

Neostrata Defend Sheer Physical Protection SPF 50 is ideal for all skin types.

Neostrata the science of skin regeneration!
We're on a mission to help people by helping their skin.
Our name translates to "new layers." Two words that perfectly describe our skincare philosophy that visible results come from renewing layers of the skin.
The NEOSTRATA® difference.
Our products exfoliate the surface layers of your skin, revealing fresh, new layers.

We develop our products at the ph level that your skin absorbs most effectively.

We target the building blocks of skin's matrix for long-term results.
We have been researching topical skincare ingredients for over 40 years, discovering and patenting some of the best-known technologies, like Glycolic Acid, which have been licensed within the skincare industry worldwide.
We think you might like these