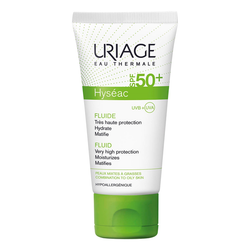 Hyseac Solaire SPF50+ [oily skin]
Uriage Hyséac Solaire SPF50+ is a dual-action moisturizer that combines effective sun protection with properties specifically tailored to combination to oily skin.
Formulated with Licorice Extract, a mattifying active that regulates excess oil and reduces shine on the surface of the skin, and Uriage Thermal Water, an all-natural ingredient that calms the skin and relieves sensations of discomfort, this cream offers high-performance UVA-UVB protection to the skin, all the while providing a non-sticky and non-greasy finish. The complexion is clear, mattified, and perfectly protected from sun-caused damage.
Main Ingredients:
Liquorice Extract regulates excess sebum and mattifies the complexion;
Uriage Thermal Water, which is pure and naturally rich in mineral salts and trace elements, soothes the skin and relieves sensations of discomfort.
How to use:
Apply a sufficient amount of Uriage Hyséac Solaire SPF50+ to the skin before going out in the sun. Reapply every two hours.
For over 2,000 years, Uriage Thermal Water has travelled through the heart of the French Alps, taking 75 years to pass through the rocks. 
Since 1992, Uriage has incorporated the soothing benefits of Uriage thermal water into specialist skincare products that care for the skin of the entire family on a daily basis.
Uriage skincare has become known as one of the worlds leading dermo-cosmetic brands specialising in skin care conditions to help soothe sensitive skin. Designed in conjunction with pharmacists, specific skin conditions including Roseliane, acne & sensitive skin can be treated with Uriage skin care products.
We think you might like these