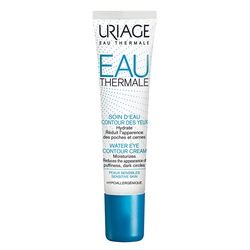 Eau Thermale Eye Contour Water Cream
Uriage Eau Thermale Eye Contour Water Cream is a moisturizing and replenishing care for the eye area.
It reduces the appearance of dark circles and dehydration fine lines, illuminating, refreshing and energizing the eye contour. The Hydro-Thermal Complex, enriched in Uriage Thermal Water, helps rebuilding the skin barrier and forms a film on the surface, maintaining an optimum hydration level.
Main Ingredients:
Hydro-Thermal Complex keeps the skin moisturized;
Dextran Sulphate promotes vasoconstriction in the eye area, reducing the appearance of dark circles.
How to use:
Apply Uriage Eau Thermale Eye Contour Water Cream daily in the morning and/or evening around the entire eye contour area with light patting.
For over 2,000 years, Uriage Thermal Water has travelled through the heart of the French Alps, taking 75 years to pass through the rocks. 
Since 1992, Uriage has incorporated the soothing benefits of Uriage thermal water into specialist skincare products that care for the skin of the entire family on a daily basis.
Uriage skincare has become known as one of the worlds leading dermo-cosmetic brands specialising in skin care conditions to help soothe sensitive skin. Designed in conjunction with pharmacists, specific skin conditions including Roseliane, acne & sensitive skin can be treated with Uriage skin care products.
We think you might like these