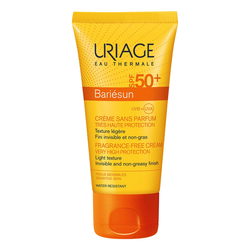 Uriage Bariésun Cream SPF50+ is a very high protection tinted sunscreen that protects the skin against UVA/UVB rays, free radicals, dryness and dehydration.
This subtly iridescent formula, which contains a unique blend of Vitamins E and C, prevents photoaging by fighting against the harmful effects of sun exposure. The addition of Uriage Thermal Water ensures that this cream is easily absorbed and tolerated by the skin.
Main Ingredients:
Vitamin E protects against cell mutation caused by sun exposure, while Vitamin C provides additional protection against acute UVB damage;
Uriage Thermal Water, which is pure and naturally rich in mineral salts and trace elements, soothes the skin and relieves sensations of discomfort.
How to use:
Apply a generous and even layer of Uriage Bariésun Golden Tinted Cream SPF50+ to cover the area exposed to the sun. Reapply regularly, especially after perspiring, swimming or toweling. Do not expose babies and young children directly to the sun.
For over 2,000 years, Uriage Thermal Water has travelled through the heart of the French Alps, taking 75 years to pass through the rocks. 
Since 1992, Uriage has incorporated the soothing benefits of Uriage thermal water into specialist skincare products that care for the skin of the entire family on a daily basis.
Uriage skincare has become known as one of the worlds leading dermo-cosmetic brands specialising in skin care conditions to help soothe sensitive skin. Designed in conjunction with pharmacists, specific skin conditions including Roseliane, acne & sensitive skin can be treated with Uriage skin care products.
We think you might like these