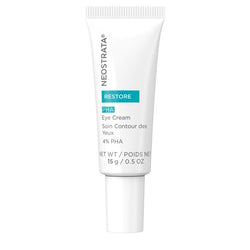 [Restore] Hydrating Eye-Area Cream
No matter your age or skin type, one fact stands true: Eye cream should have a firm spot in your beauty routine. NeoStrata Restore Eye Cream 4% PHA with Hyaluronic Acid revives and diminishes signs of aging for a more youthful eye area.
This deeply moisturizing eye cream combines antiaging Polyhydroxy Acid (PHA) technology known to protect the skin's moisture barrier in a light cream, containing nourishing oils and Hyaluronic Acid to hydrate the delicate eye area, plumping your skin to diminish the appearance of fine lines and crow's feet.

And that's not all! Soothing extracts of green tea and avocado work to strengthen the skin barrier, while gluconolactone gently exfoliates and essential amino acids boost cell function.

NeoStrata Restore Eye Cream is ideal for for all skin types.

Neostrata is the science of skin regeneration!
We're on a mission to help people by helping their skin.
Our name translates to "new layers." Two words that perfectly describe our skincare philosophy that visible results come from renewing layers of the skin.
The NEOSTRATA® difference.
Our products exfoliate the surface layers of your skin, revealing fresh, new layers.

We develop our products at the ph level that your skin absorbs most effectively.

We target the building blocks of skin's matrix for long-term results.
We have been researching topical skincare ingredients for over 40 years, discovering and patenting some of the best-known technologies, like Glycolic Acid, which have been licensed within the skincare industry worldwide.
We think you might like these