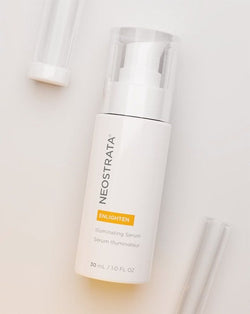 [Enlighten] Illuminating Serum
Neostrata Enlighten Illuminating Serum Tone Correcting Concentrate helps to reduce the appearance of skin discoloration targeting a more even skin tone.
This multi-action serum targets skin discoloration and uneven skin tone. Contains NEOGLUCOSAMINE®, a gentle exfoliator known to help fade the appearance of existing skin discolorations.

This formula includes 4% Niacinamide (Vitamin B3), and a blend of Vitamin C, B-Resorcinol and Licorice Extract to help promote a brighter and more even skin tone.
The Enlighten Illuminating Serum from Neostrata has been designed to brighten skin that has been darkened by sun exposure, the environment or general ageing. This impressive serum helps to decrease the production of melanin, encourages cell turnover and breaks down existing pigmentation clusters beneath the surface.

Neostrata Enlighten Illuminating Serum is ideal for dry, normal and oily skin types.

Neostrata is the science of skin regeneration!
We're on a mission to help people by helping their skin.
Our name translates to "new layers." Two words that perfectly describe our skincare philosophy that visible results come from renewing layers of the skin.
The NEOSTRATA® difference.
Our products exfoliate the surface layers of your skin, revealing fresh, new layers.

We develop our products at the ph level that your skin absorbs most effectively.

We target the building blocks of skin's matrix for long-term results.
We have been researching topical skincare ingredients for over 40 years, discovering and patenting some of the best-known technologies, like Glycolic Acid, which have been licensed within the skincare industry worldwide.
We think you might like these