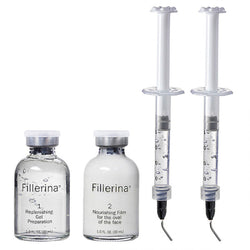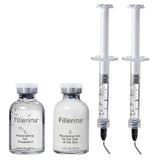 Dermo-Cosmetic Filler Treatment
The at-home alternative to doctor's needles. Breakthrough, Hyaluronic Acid wrinkle reducer is a 2-week treatment regimen that seamlessly fills in wrinkles and expression lines, plumps volume in cheeks, eyes and lips and firms contours for smoother, thicker skin that lasts up to four months. 
Fillerina Filler Treatment Dermo-cosmetic Replenishing Gel is made for at-home use; it is a topical cosmetic product to be used for a minimum of 14 days.
The key action is performed by Fillerina Gel which is applied using a special applicator with a truncated tip on wrinkles and expression lines and on specific areas that require more volume (cheekbones, lips).
Grade 1 : Beginning signs of aging and hydration. 6 HA molecules. G.1 is great for an upcoming event, all skin types.
Grade 2 : Most with moderate signs of aging . 6 HA Molecules. G.2 is also a great quick start for every type, however, for deeper wrinkles should be followed up with higher grades in 3 months to provide deeper anti-ageing action.
Grade 3 : Moderate to deeper wrinkles and beginning signs of sagging skin. 6 HA Molecules
Grade 4 : Deep wrinkles and sagging skin. 8 HA Molecules, 15% more
Grade 5 : Extremely deep wrinkles and sagging skin. 8 HA Molecules, 30% more.
How to apply : Use the applicator to draw up 2ml. of the step 1 gel. Apply to wrinkles, cheeks and lips. Let absorb for 10 minutes, pat in with finger tips. Apply 2 ml of the step 2 cream by patting in all over the face and neck. Repeat nightly for 14 nights.
Fillerina Skin Care has a 
patented formulas that are a blend of different sized molecule weights of hyaluronic acid, which are particularly effective for absorption in the deep layers of the skin, in the plumping of wrinkles as well as adding volume to the cheeks and lips. No needs of fillers & needles anymore !
The Science:
Fillerina is a revolutionary, no needle, dermo-cosmetic treatment for at-home use that contains the first ever blend of 6-8 Hyaluronic Acids with different weight and structures to facilitate in the plumping of tissues without puncturing the skin. Featuring a SWISS PATENT for the formulas containing the 6-8 different molecular structures of varying weights and sizes and a Patent on the Precision Applicator, that allows you to apply the gel exactly where you need it. Fillerina is the only cosmetic product that allows large quantities of Hyaluronic Acid to rapidly penetrate deep into the cutanious tissues, without injections. Once in the skin,these Hyaluronic Acid molecules combine with water to give a plumping and hydrating effect.
Skin Technology:
The skin is hardly permeable. In order for Fillerina molecules to be absorbed by the skin, Labo Researchers developed a technology based on the very low molecular weight of the active substances. This is the fundemental condition to guarantee their absorbtion into the skin. It is precisely thanks to this controlled absorption that the active ingredients are really effective in terms of skin replenishment and moisturizing. Skin absorption of Fillerina ingredients was made possible by the new Labo technology and tested by means of Franz Cells.
Fillerina's in-vivo Testing was published in the December 2014 Journal of Cosmetic Dermatology.
Fillerina Test results:
Fillerina to be very effective at reducing fine lines and wrinkles and plumping up the volume of areas such as the lips and cheekbones.
The In-vivo test results were obtained using Fillerina Replenishing gel for 14 days and Day, Night and Eye and Lip Contour Creams from day 15 to day 30. This test was based on 40 women. 
Some of the effects of Fillerina products can be seen quickly whilst others are more gradual over a period of weeks. The range of products have been carefully developed in order to work together harmoniously or to fit seamlessly into an existing skincare routine.
-Reduction of Wrinkle Depth by an average of 21.8% and up to 54.8%
-Plumping of Wrinkle Volume by an average of 26.3% and up to 48.1%
-Lifting of Cheekbones by an average of 2.51 mm and up to 3.67 mm
-Increase in Lip Volume by and average of 14.2% and up to 44.7%
Volunteer trial surveys showed 95% positive comments and results. (over 1200 volunteers)
Since it's launch, Fillerina has gained an incredible following of fans including make up artists, skincare specialists, cosmetic and aesthetic doctors and supermodels such as Jourdan Dunn, who loves our Lip Volume. Fillerina is not tested on animals and is suitable for vegetarians.
As we age, our cell replacement rate slows down, causing the skin to become dull and dry. Collagen, the skins' building blocks, is more easily broken down and is much more difficult to rebuild, which causes the skin to sag and creates more wrinkles.
How fast the skin ages is affected by different factors but the biggest causes are genetics, UV rays and environmental pollution. The latter ages the skin due to the addition of free radicals into your skin which attacks the cells and breaks them down.
PRODUCTS AND INGREDIENTS TO LOOK FOR 
Mature skin needs extra moisture and, as with all skin types, daily protection to keep it healthy. Make sure to choose products that help the skin to repair damage as well as moisturise from within.
Retinol is a well documented ingredient designed to help mature skin. It stimulates collagen production and smoothes out fine lines. A good complement to UV protection are antioxidants to help maintain the skins' radiance. They protect the skin against free radicals and help to repair the cells in the skin.
Products with AHA acids will help remove old skin cells, increase cell regeneration and have a smoothing effect.
A rich night cream can also give your skin the extra moisture it needs.
When treating mature skin it is important to use a high SPF against both UVA and UVB rays.
Make sure to also take into account which skin type you have. Mature skin requires extra care but can also need tailored treatment, for example if your skin is reactive.
Check out our Instagram for amazing skin and hair care [
beaute.ae_

 

]
Hyaluronic acid is substance that is naturally produced by your body.
Its main function is to retain water to keep your tissues well lubricated and moist.
Hyaluronic acid has a variety of uses. Many people take it as a supplement, but it's also used in topical serums, eye drops and injections.
Topical treatments with hyaluronic acid helps to maintain a youthful-looking appearance by replenishing the hyaluronic acid content in our skin that diminishes as we grow older, which contributes to significant dryness, sagging and wrinkling.
Myth 
Hyaluronic Acid is NOT going to replace your elastin but, it can help with the appearance of tightness in the skin. As it fills the skin with moisture, hyaluronic acidtightens the overall complexion. It helps firm facial contours for a more youthful appearance.
Good Patient ?
The acid's ability to hold up to 1,000 times its weight in water. It is a fantastic hydrator for individuals with dry, eczema-prone or post-procedure (after chemical peel, laser treatment or resurfacing) skin.
What to look for 
Lots of topical treatments contain hyaluronic acid contain between 0.25 to 2.5 percent. However, at Beaute.ae, we feel that products with at least 1 percent for more a notable benefit.
Please note : Hyaluronic acid needs to be applied regularly for best effects because it sits on the skin surface (unless used in the injectable form).
Diane's tip : 
Hyaluronic Acid is great for anti-aging so yes it'll be great for under-eye wrinkles. No, you won't peel. ... Fortunately, we can replace that moisture by applying hyaluronic acid through products. It's safe definitely a skin care favorite used widely in the industry. So, during my skin care routine I apply my hyaluronic serum on my eyes area before applying my eye cream. 
We think you might like these