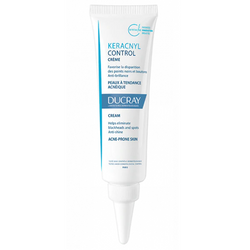 Keracnyl PP Anti-Blemish Soothing Care
Ducray Keracnyl PP Anti-Blemish Soothing Care is a soothing cream suitable for the daily care of acne-prone skin.
Enriched with niacin, also known as vitamin PP, a powerful active known for its ability to minimize areas of skin hyperpigmentation, this cream provides the skin with a clear and hydrated finish, all the while soothing and reducing spots of redness and irritation caused by harsh anti-acne treatments.
Clinical trial volunteers report a 57% decrease in the appearance of red spots, as well as an overall feeling of comfort in the affected skin areas.
Main Ingredients:
Niacin, also known as vitamin B3 or vitamin PP, reduces accumulation of melanin and excess pigment, effectively minimizing areas of skin hyperpigmentation;
Sabal serrulata extract is renowned for its ability to remove excess oil from the skin.
How to use:
Apply Ducray Keracnyl PP Anti-Blemish Soothing Care in the morning and/or evening to the entire face. May be used as a make-up primer.
Albert Ducray was born in 1901, just as a new century was dawning.

As a young hairdresser making his way in Belle Époque Paris, Albert Ducray was quick to observe the damaging and dulling effects of soap powders when used as shampoos. Between 1929 and 1931 this dermatologist's son created his own brand, Dr Ducray, and developed LIK Savon, a revolutionary range of single-dose shampoos adapted to different hair types.
Pierre Fabre : a key encounter
In 1969, Albert Ducray and Pierre Fabre, two men with a similar outlook on life and a shared ambition, met for the first time. Pierre Fabre Laboratories, already committed to cutting-edge hair care research, acquired Ducray.

This partnership gave the brand new momentum and further boosted its development.

The ongoing expansion led to the creation of the Extra-Gentle shampoo, presented at sales rep visits. As the first regular-use shampoo to respect the scalp's balance, it has become a hair care classic and has stood the test of time.

From hair loss to sensitive skin, a comprehensive range of expert care products was then launched to include treatment of the most common hair disorders.
From Hair To Skin
In the 1980s, strengthened by medical professionals' trust, Ducray took up a new challenge and developed Ictyane, which was to become a leader in dry skin care thanks to its revolutionary galenic composition. The brand continued its dermatological research and developed a range of targeted solutions to treat hair and skin disorders that can affect anyone. The 1990s saw another renowed range Keracnyl, who later to become one of the products most frequently prescribed by doctors for acne-prone skin***. By the 2000s, our products were being distributed right across the world. They are now available in more than 80 countries.
Hyperpigmentation is caused by an overproduction of melanin; the skin's natural pigment. This can be caused by several factors such as exposure to sun, genetics, age, hormonal changes and skin damage or inflammation.
Types of Hyperpigmentation
Age Spots
Pigment spots in the form of "age spots" are caused by intensive, or extensive exposure to the sun and it tends to show up later on in life. It first appears on the parts of the body that are most often exposed, such as the face, hands and arms. They appear as small, dark patches on the skin.
Melasma
Melasma is caused by hormonal changes, such as pregnancy or the contraceptive pill, and causes irregular, dark patches on the face or arms that can grow quite large. Patchy hyperpigmentation tends to show up on the cheeks, forehead and above the upper lip. The colour varies from light to dark brown and tends to cause a line along the across or over the cheeks. It can be very stubborn and be worsened by sun exposure and perfumes. It is important to use sunscreen with a high SPF.
Hormonal
Hyperpigmentation caused by hormones tends to gradually fade when you have given birth or stopped taking the contraceptive pill, but it can also drag on for many years. It can be worsened by sun exposure and perfumes. It is important to use sunscreen with a high SPF.
Post-inflammatory
Post-inflammatory hyperpigmentation occurs when the skin is damaged or a wound heals which causes a flat, discoloured area on the skin. It is common among people that suffer from acne, but can also be caused by cosmetic treatments such as dermabrasion, laser treatments and chemical peelers.
LIVER SPOTS
Liver spots, also known as lentigo, are more pronounced areas of pigmentation which are darker and more defined than regular freckles. They tend to be slightly raised and spread further apart but do not multiply or change colour after exposure to the sun.
PIGMENTED NEVUS
These are accumulations of melanocyte cells and are often referred to as beauty/birth marks or moles. Anyone can have them and they are permanent, but rarely appear at birth. They can show up in the first few years of life but commonly appear during early adult years. Puberty and pregnancy increase the amount of moles on your skin as well as their shape and colour. They can also spontaneously vanish.
How they look tends to vary - they can appear as freckles, pimples, wart-like or bumps. They are most likely to be quite small, less than 1 cm in diameter and can vary in colour from a light brown, to a dark blue-black colour. Sometimes they can even show up as skin coloured.
The majority of nevi are benign but a small percent can become malign and that is why it is important to keep an eye out for any changes in colour, size and appearance. Any of these changes are to be considered suspicious and is to be monitored carefully. Any sudden signs of inflammation, darkening of the pigment, enlarging, bleeding, sores, pain or itching are reasons to contact your doctor immediately.
Treatments For Hyperpigmentation
Chemical Peels - It reduces the hyperpigmentation by removing the top layer of the skin (epidermis). Good For : Age spots, Melasma, Blotchy Skin, Sun Damage
Laser Peels ( Skin Resurfacing ) - There are two types of lasers. Ablative and non-ablative. Good for : Both destroy elements in your skin to ensure that new skin cells grow back tighter and more toned.
- Ablative lasers are the most intense. They involve removing layers of your skin and  they may cause more side effects. 
- Non-ablative procedures, on the other hand, target the dermis to promote collagen growth and tightening effects.
IPL ( Intense Pulse Laser ) - non-ablative (fractional) laser treatment. Also known as a photofacial, IPL therapy stimulates collagen growth within the dermis. It usually requires multiple sessions. Good for : overall pigmentation issues, but flat spots especially respond to this treatment. It may also help reduce the appearance of wrinkles, spider veins, and enlarged pores. 
Microdermabrasion - Treats only the epidermis. The dermatologist will use a drill-like handheld tool with a wire brush or other abrasive attachment. The tool is then swiped across your skin to rapidly — but gently — to remove the epidermis. You may need multiple sessions to achieve your ideal result. Good for : Microdermabrasion works best on superficial scars. Your dermatologist can help you determine whether this treatment is right for you. 
Topical Application - Creams or gels are sometimes more affordable options for hyperpigmentation, but these can take longer than professional treatments. Good for : It work best for flat spots, such as melasma or age spots. They're effective for patches of discoloration on most skin types. 
Ingredients To Look for Hyperpigmentation
Hydroquinone - i

s a skin lightening agent that combats hyperpigmentation, which is why so many products that seek to diminish dark spots contain it. It is an ingredient used to remove the dark spots caused by acne, scarring, birth control pills, hormone treatments, or pregnancy. It does this by 

decreasing the number of melanocytes

 in the stratum basale, or the bottom layer of the epidermis. These are the cells that produce melanin, a skin pigment responsible for hyperpigmentation.
We recommend : Admire My Skin 2% Hydroquinone available on Beaute.ae
Vitamin B3 (niacinamide) - It can help build proteins in the skin and lock in moisture to prevent environmental damage.
AHA (alpha hydroxy acids) - They are a group of plant and animal-derived acids used in a variety of skincare products. These include daily anti-aging products, such as serums, toners, and creams, as well as occasional concentrated treatments via chemical peels. They help exfoliate the skin, brighten the skin, promote collagen production and reduce fine lines.
Vitamin C (in the form of l-ascorbic acid) - It 

can help fend off the signs of aging because of its vital role in the body's natural collagen synthesis. It helps to heal damaged skin and, in some cases, reduces the appearance of wrinkles

Salicylic acid - It 

has been shown to help clear up breakouts for many people. Therefore prevent any acne burst. It's well-known for reducing acne by exfoliating the skinand keeping pores clear.

Kojic acid - It's 

most often used as a

skin-lightening

agent for visible sun damage, age spots, or scars. This can result in an anti-aging effect on the skin.
What Works Best For Which Skin 
Fair Skin
- Intensive laser + IPL treatment 
Medium Skin
- Chemical Peels + Microdermabrasion 
Dark Skin
- Glycolic acid + Microdermabrasion + lower-strength chemical peels + laser treatments, but only when used at lower intensities over a larger number of sessions
If you're out in the sun on a regular basis, any strong treatments cause your skin to be more sensitive to the sun's rays. If you don't adequately apply sunscreen and use other UV protection, the sun may worsen your hyperpigmentation. You'll need to take extra precautions for at least one week after your last chemical peel.
Check out our Instagram for amazing skin and hair care [
beaute.ae_

 

]
We think you might like these