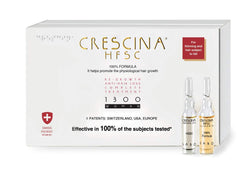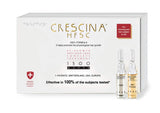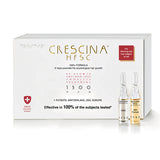 HFSC 100% Complete Treatment 1300 [10+10 vials]
Crescina HFSC 100% Complete Treatment 1300 (10+10 vials) combines 2 formulations in one pack. Available for men and women.
Crescina Re-Growth HFSC (amber vial) contains the patented core of Crescina Re-Growth (Cysteine, Lysine, Glycoprotein), which promotes physiological hair growth.
Crescina Anti-Hair Loss HSSC Enhanced Formula (transparent vial) blends the basic active ingredients with the HSSC complex, which helps prevent and hinder the physiological, non-pathological, causes of hair loss.
Results:
It preserves hair cell longevity
Fights against aging
Promotes the physiological hair growth
How to use:
The preparation shall be applied on clean and dry scalp
It contains a mild vasodilator that may cause a slight heat reaction with reddening of the skin for a short time
Wash hands thoroughly after the application
Still doubts on Crescina ?
Check out the FAQ on the About Crescina page
Otherwise, feel free to email us on info@beaute.ae
Crescina from Labo Suisse helps promote the physiological hair growth, restores and strengthens the scalp for women and men. 
[ Same family as Fillerina & Labo Transdermic also sold on Beaute.ae ]
FAQ
How to choose between Crescina Re-Growth and Crescina Hair Follicular Islands?

Crescina Re-Growth is suitable for those people with thinning hair problems, and in particular for those approaching the Treatment for the first time. It is recommended also for the maintenance (1 or 2 vials per week after the 2-month cycle) 
Crescina Hair Follicular Islands, instead, is normally recommended for those people who already used Crescina, for a greater activity on the Follicular Islands and not only on the single hair follicles.
Is it normal to feel a slight itching sensation once the product has been applied on the scalp?

Absolutely yes. Crescina ampoules contain vasodilator ingredients, so it is natural to feel some tingling, redness or even burning immediately after their application. These symptoms should disappear a few minutes or a few hours later. If the symptoms persist and become annoying, we suggest that you rinse the scalp thoroughly. During the application, you should be careful to protect your face; once this skin is more sensitive.
Can I use Crescina treatment during pregnancy/breastfeeding?

Crescina can be used during pregnancy/breastfeeding. However, because of the peculiarities of this particular physiological condition, Labo usually recommends to inform your doctor about the application of the treatment.
Can I dye my hair during the treatment?

In order not to stress too much the scalp, it is advisable to suspend the treatment when you dye your hair and to resume the application from the day after.
Do I need to buy a shampoo of the same products?

It is not essential to buy a shampoo of the same line. It is important, however, to use a mild shampoo: from this point of view, Crescina shampoo guarantees the maximum quality.
How long does the treatment last?

The minimum period of application is 2 months, although it is usually recommended to apply the treatment for at least 3 months.
Since which age can I start to use Crescina?

You should have reached adulthood. In order to choose the dosage that best suits your needs, it is useful to consult Hamilton / Norwood thinning scale for men and Ludwig / Savin thinning scale for women.
How soon, after the star of Crescina treatment application, results will begin to be visible?

Results depend on the individual conditions. According to the in-vivo tests on volunteers, 100% of the subjects obtained positive results in terms of new hair growth after 4 months of treatment.
What are the differences between Crescina vials for women and for men

Crescina Man and Woman preparations differ since the formulas are specifically designed for the hair characteristics of the two sexes. For example, men's vials contain a lower quantity of emollient substances as their hair is usually oilier than women's hair, who, on the other hand - by virtue of straighteners, hairdryers and dyes - have drier hair. It is therefore preferable that men use men's vials, while women use women's vials, although, as you can easily imagine, there is no harm in case of reverse use (in the presence of very oily hair, in fact, we recommend a woman to use the treatment with men's ampoules).
YOUR SATISFACTION IS OUR ABSOLUTE HIGHEST PRIORITY. IF YOU HAVE ANY QUERIES RELATING TO YOUR ORDER, PLEASE USE THE FORM BELOW, AND WE WILL DO EVERYTHING WE CAN TO ASSIST YOU.
ORDER PROCESSING
Sales taxes will be calculated at checkout where applicable. 
We typically ship your order within 24 hours. Where possible, we try to ship the same day. During peak periods, there may be a delay of one day (but we sure try hard to avoid that). Order status will be emailed to you when your order ships.
DELIVERY
Delivery is free for all orders over 350 AED. Otherwise, delivery is 25 AED.
Once your order has shipped, it usually takes 3 business days. If you have not received after 3 days, feel free to contact us using our contact page.
RETURN
We love our customers and your satisfaction is very important to us. We will do everything we can to make you happy.
You can return your product up to 7 days after receiving your order. Please make sure that the products are not used or damaged. Any opened product shall not be refunded. 
 EXCHANGE
If you change your mind and wish to exchange a product, that's no problem. To be eligible, your item must be returned within 7 days of purchase. Please use a trackable shipping method, as we cannot be responsible for missing incoming deliveries. The goods must be unused, in the same condition you received them in and they must also be in the original packaging. We will charge a small freight fee to dispatch your replacement, depending on your location.
Please note 
Beaute.ae will not accept liability for lost orders if you select for your parcel to be left in a safe place or with a neighbour.
Beaute.ae will only consider claims for lost items sent 10 working days after the latest due date.
What is Hair Loss ?
New hair normally replaces the lost hair, but this doesn't always happen. Hair loss can develop gradually over years or happen abruptly. Hair loss can be permanent or temporary.
What causes hair Loss ?
First, your doctor will try to determine the underlying cause of your hair loss. The most common cause of hair loss is hereditary male- or female-pattern baldness.
If you have a family history of baldness, you may have this type of hair loss. Certain sex hormones can trigger hereditary hair loss. It may begin as early as puberty.
In some cases, hair loss may occur with a simple halt in the cycle of hair growth. Major illnesses, surgeries, or traumatic events can trigger hair loss. However, your hair will usually start growing back without treatment.
Hormonal changes can cause temporary hair loss. Examples include: pregnancy, childbirth, menopause
Medical conditions that can cause hair loss include: thyroid disease, alopecia areata

 

(an autoimmune disease that attacks hair follicles), scalp infections like

 

ringworm
Medications used to treat: cancer, high blood pressure, arthritis, depression, heart problems
A physical or emotional shock: a death in the family, extreme weight loss, a high fever
Traction hair loss can be due to hairstyles that put pressure on the follicles by pulling the hair back very tightly.
How to combat hair loss & hair thinning
1. Balance diet
Make sure you're eating a balanced diet that includes adequate amounts of iron and protein. Certain beauty regimens can worsen or cause hair loss.
2. Growth Supplements 
3. Delicate shampooing 
Unless you have extremely oily hair, consider washing your hair only every other day. If not, use a very mild shampoo.
4. Topicals gels
Do at home treatments to prevent and regrowth the hair. Crescina HFSC 100% Complete Treatment 1300 (10+10 vials) combines 2 formulations in one pack.
Crescina Re-Growth HFSC (amber vial) promotes physiological hair growth. Crescina Anti-Hair Loss HSSC helps prevent and hinder the physiological, non-pathological, causes of hair loss.
How to combat extreme hair loss 
For extreme cases surgical procedures, such as hair transplant are the best to treat baldness. It involves moving small plugs of skin, each with a few hairs, to bald parts of your scalp. This works well for people with inherited baldness since they typically loose hair on the top of the head. Because this type of hair loss is progressive, you would need multiple surgeries over time.
We think you might like these