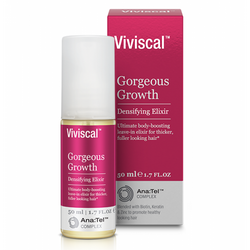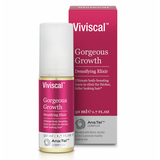 The ultimate, lightweight, body-boosting leave-in treatment for thicker looking hair
At Viviscal, we understand hair. Everyday stress, hormonal changes, poor nutrition, age, menopause, post-pregnancy, heredity, medication, and damage caused by the environment and overstyling can impact the health of your hair and lead to breakage and excess shedding. Therefore, it's important to ensure that the hair and scalp are healthy, conditioned and nourished to maintain the ideal environment for healthy hair growth.*
Viviscal Gorgeous Growth Densifying Elixir is the ultimate, body-boosting, leave-in treatment for thicker, fuller and gorgeous looking hair. 88% of consumers agree that Viviscal Gorgeous Growth Elixir does not weigh down hair or make it feel greasy+. Viviscal Densifying Elixir promotes gorgeous hair as part of the complete Viviscal Gorgeous Growth Densifying collection. Only the Viviscal Gorgeous Growth Densifying collection contains Ana:Tel™, a proprietary complex that includes clinically tested ingredients derived from natural sources, such as pea sprouts. Combined with Biotin, Keratin and Zinc, the Gorgeous Growth Densifying collection promotes the appearance of healthy looking hair growth. 9 out of 10 consumers said their hair appeared thicker and fuller after just 1 week of using the Viviscal Gorgeous Growth Range+.
Use Viviscal Gorgeous Growth Densifying Elixir as part of the complete Viviscal range, which provides a unique two-dimensional hair care system fusing the best of both worlds. Viviscal offers scientifically formulated products that promote healthy hair growth* from the inside (Viviscal Extra Strength dietary supplements) plus gorgeous hair on the outside (Densifying Elixir, Densifying Shampoo and Densifying Conditioner), and even provide instant coverage for thicker looking hair (Conceal & Densify Volumizing Fibers).
Why Viviscal Gorgeous Growth Densifying Elixir?
Promotes thicker looking hair with Ana:Tel™, a proprietary complex containing clinically tested ingredients derived from natural sources, such as pea sprouts
Nourishes with Biotin, Keratin and Zinc
Non-greasy formula that is easy to apply
Suitable for all hair types
Botanical fragrance leaves hair infused with a refreshing scent that lasts
Size: 50 ml (1.7 fl oz)
+Based on consumer research of 110 consumers using Viviscal Densifying Shampoo, Conditioner and Elixir (September 2015).
Who is Viviscal ?
Viviscal has been researching hair loss for over 20 years and is very proud to have developed the most researched hair growth* dietary supplement. The efficacy of Viviscal dietary supplements is supported by ten clinical trials.
Clinical studies can be found here
The Secret to Viviscal Dietary Supplements
Only Viviscal dietary supplements contain the proprietary AminoMar® marine complex, plus a blend of vital nutrients that nourish thinning hair and promote existing hair growth* from within. In the 1980's, a Scandinavian professor studying the Inuits discovered that their great hair and skin was the result of their fish- and protein-rich diet. He isolated the key protein molecules from the Inuits' diet and, from these origins, AminoMar was created. Since the professor's discovery, Viviscal has been tried and tested worldwide.
Complete Hair Care Programs
In addition to Viviscal dietary supplements, which nourish hair from within, the drug free Viviscal Hair Growth* and Hair Care Programs include cosmetic products that prepare the scalp and add volume.* View all ingredients in the complete range of products in the Viviscal Hair Growth* and Hair Care Programs for women and men : Densifying Elixir, Densifying Shampoo and Densifying Conditioner.
Ingredients in Viviscal Hair Growth Supplements†
AminoMar®:

 

The groundbreaking, clinically proven marine complex available exclusively in Viviscal supplements. Derived from key marine protein molecules combined with a blend of Horsetail (Stem) Extract and naturally occurring Silica, it provides essential nutrients needed to promote existing hair growth from within.
Biotin: Also known as Vitamin H, it is a water-soluble Vitamin B complex (Vitamin B7) that helps the body to metabolize carbohydrates, fats and amino acids, which are the building blocks of protein and thus essential in the formation of the hair structure.
Vitamin C: A powerful antioxidant that helps to absorb more Iron into the blood, which in turn promotes hair growth. Vitamin C in Viviscal supplements is sourced from the acerola cherry.
Iron: An essential mineral that has several important roles in the body, Iron helps to make red blood cells, which carry oxygen around to cells in the body, including hair follicles. Thinning hair can be one of the visible symptoms of anemia (Iron deficiency).
YOUR SATISFACTION IS OUR ABSOLUTE HIGHEST PRIORITY. IF YOU HAVE ANY QUERIES RELATING TO YOUR ORDER, PLEASE USE THE FORM BELOW, AND WE WILL DO EVERYTHING WE CAN TO ASSIST YOU.
ORDER PROCESSING
Sales taxes will be calculated at checkout where applicable. 
We typically ship your order within 24 hours. Where possible, we try to ship the same day. During peak periods, there may be a delay of one day (but we sure try hard to avoid that). Order status will be emailed to you when your order ships.
DELIVERY
Delivery is free for all orders over 350 AED. Otherwise, delivery is 25 AED.
Once your order has shipped, it usually takes 3 business days. If you have not received after 3 days, feel free to contact us using our contact page.
RETURN
We love our customers and your satisfaction is very important to us. We will do everything we can to make you happy.
You can return your product up to 7 days after receiving your order. Please make sure that the products are not used or damaged. Any opened product shall not be refunded. 
 EXCHANGE
If you change your mind and wish to exchange a product, that's no problem. To be eligible, your item must be returned within 7 days of purchase. Please use a trackable shipping method, as we cannot be responsible for missing incoming deliveries. The goods must be unused, in the same condition you received them in and they must also be in the original packaging. We will charge a small freight fee to dispatch your replacement, depending on your location.
Please note 
Beaute.ae will not accept liability for lost orders if you select for your parcel to be left in a safe place or with a neighbour.
Beaute.ae will only consider claims for lost items sent 10 working days after the latest due date.
We think you might like these