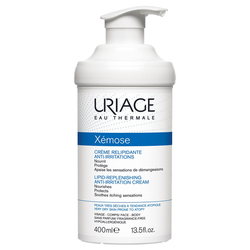 Xemose Lipid-Replenishing Anti-Irritation Cream
Uriage Xémose Lipid-Replenishing Anti-Irritation Cream is a nourishing, protective cream that instantly soothes itching and discomfort associated with extreme skin dryness.
Infused with Chronoxine, an exclusive patented ingredient, and Uriage Thermal Water, this product brings an instant soothing action to the skin, all the while restoring and reinforcing the skin barrier.
The melting, non-sticky texture is easily applied and easily absorbed, in order to bring long-lasting comfort and health to the skin.
Main Ingredients:
Chronoxine, an exclusive patented ingredient, brings an instant soothing action to the skin;
Uriage Thermal Water, which is pure and naturally rich in mineral salts and trace elements, soothes the skin and relieves sensations of discomfort.
How to use:
Apply Uriage Xémose Lipid-Replenishing Anti-Irritation Cream daily to clean and dry skin. Massage gently until product is fully absorbed.
For over 2,000 years, Uriage Thermal Water has travelled through the heart of the French Alps, taking 75 years to pass through the rocks. 
Since 1992, Uriage has incorporated the soothing benefits of Uriage thermal water into specialist skincare products that care for the skin of the entire family on a daily basis.
Uriage skincare has become known as one of the worlds leading dermo-cosmetic brands specialising in skin care conditions to help soothe sensitive skin. Designed in conjunction with pharmacists, specific skin conditions including Roseliane, acne & sensitive skin can be treated with Uriage skin care products.
Dry skin often produces considerably less sebum than oily and combination skin, which in turn also means it has less moisture and oil. Due to the lack of sebum produced in the pores and a general lack of moisture, the skins' surface can be flaky and rough. The pores on a person with dry skin are often quite small. After washing the face it can feel very taut and even itchy, and it is not uncommon for people with dry skin to develop eczema. Dry skin sufferers rarely have issues with pimples due to the lack of sebum being produced.
Many people experience sensitivity with dry skin because the skins' barrier is lacking and is therefore more vulnerable to external factors such as genetics, environmental factors, hormones, age and use of the wrong beauty products.

TREATMENT
Dry skin needs oil to help compensate for the lack of sebum production. It is highly recommended to use creams that are rich and nourishing or oily to help repair the skins' barrier and lock moisture into the skin.
Since dry skin can be itchy and sensitive it may be necessary to complement your skincare routine with some soothing products.
Exfoliating will remove dead skin cells and allow your moisturiser to work its way deeper into your skin.
Tip : A good option is a leave-on peeler that contains AHA acids and moisturiser.
It is much better to wash your skin with a cleansing milk (rather than a gel that will lather up) and help to maintain the protective outer layer of your skin.
Tip : For some extra TLC, make sure to swap out your night cream for a nourishing face mask a couple of times a week.
Check out our Instagram for amazing skin and hair care [
beaute.ae_

 

]
We think you might like these