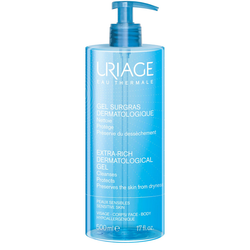 Surgras Extra-Rich Dermatological Gel
Uriage Surgras Extra-Rich Dermatological Gel, with soothing and moisturizing properties, is a cleansing gel ideal for all family.
Gently eliminates all impurities while respecting the hydrolipidic film. The skin gets comfortable and fresh.
Main Ingredients:
Uriage Thermal Water cleans and restores the skin barrier;
Moisturizing agents keeps the skin hydrated;
Superfatting agents improves skin comfort.
How to use:
Apply Uriage Surgras Extra-Rich Dermatological Gel onto wet body and face. Rinse thouroughly.
For over 2,000 years, Uriage Thermal Water has travelled through the heart of the French Alps, taking 75 years to pass through the rocks. 
Since 1992, Uriage has incorporated the soothing benefits of Uriage thermal water into specialist skincare products that care for the skin of the entire family on a daily basis.
Uriage skincare has become known as one of the worlds leading dermo-cosmetic brands specialising in skin care conditions to help soothe sensitive skin. Designed in conjunction with pharmacists, specific skin conditions including Roseliane, acne & sensitive skin can be treated with Uriage skin care products.
We think you might like these