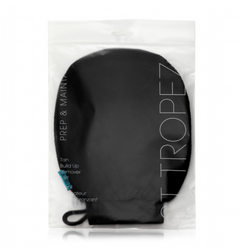 St. Tropez Tan Remover Mitt is a specially designed mitt that effectively removes any tan buildup and buffs away dry skin, leaving it ready to re-apply the perfect tan.

St Tropez's Tan Build Up Remover Mitt is a must-have item for any regular self-tan user. This multipurpose tanning accessory easily and effectively removes and evens out a fully developed tan with its four-way mesh material, revealing a streak-free glow. Regular use will ensure super-soft, silky, perfectly tanned skin' every time.
How to use : Use on wet skin in gentle circular motions with your regular bath or shower products. Apply extra pressure to elbows, knees, ankles, feet, and hands, or where tan buildup is obvious. To correct tanning mistakes, dampen skin then use your index finger inside the mitt and apply to the affected area.
St.Tropez self tan is an award winning UK tanning range.
You will get a beautiful glow all year long with their gradual and instant tanning products. A natural looking tan that lasts for days after just one application, perfect for all of your sunkissed needs.
Preferred self-tan from London Fashion Show high-end designers
Step 1: Exfoliate 24 hours prior to use. Moisturise dry areas including hands, elbows, knees, ankles, feet and any light hair. 
Step 2: For best results, apply to skin using our Tan Applicator Mitt in upward circular motions, ensuring all areas are covered. Finally, lightly glide the excess gel on your Mitt over hands and feet. The product gives a light gleam to guide your application and ensure no missed patches. 
Step 3: Wait until touch dry before getting dressed. No need to rinse off. You will see a glow after 3 hours, but before getting skin wet, allow 8 hours for your natural looking tan to fully develop. 
Step 4: To prolong and maintain your tan, moisturise daily, exfoliate regularly and reapply as required.
Also ! Check our blog for pictures tutorial. 
We think you might like these