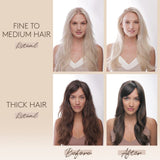 Absolue Kératine Repairing Mask
René Furterer Absolue Kératine Repairing Mask repairs extensive damage and over-processing on fine hair.
Specifically formulated for fine hair, this mask features a lightweight formula that nourishes the hair without weighing it down.
While plant-based keratin helps rebuild the hair fiber, camelina extract and biocymentine restore the hair's natural barrier in order to help it retain moisture. In essence, this is a double-purpose mask that not only repairs damage and restores resilience to the hair, but also improves its cosmetic appearance in order to reveal shiny and silky soft strands.
The highly concentrated formula performs best when used as an intensive therapy for 4-6 weeks, 2-3 times a year. From the very first application, this lush mask leaves fine hair feeling significantly lighter and shinier, as confirmed, respectively, by 93% and 90% of women who tried this product instead of their usual favorite.
Main Ingredients:
Plant keratin, which is rich in amino acids similar to those comprising the hair's natural keratin, works diligently to reconstruct the hair fiber;
Camelina extract, due to its exceptional concentration of unsaturated fatty acids and omega 3, repairs the hair's hydrolipidic film and restores its original level of protection;
Biocymentine is a lipid extract of soy which is rich in fatty acids such as ceramides and sterols. Thanks to this unique composition, Biocymentine helps reconstruct and repair the hair fiber.
How to use: 
After shampooing, apply a dab of René Furterer Absolue Kératine Repairing Mask Thin Hair to towel-dried hair. Leave in for 3-5 minutes, or for 5-10 minutes in case your hair is particularly dry or damaged. Comb out gently, then rinse thoroughly. In order to achieve optimal results, combine with other products in the René Furterer Absolue Kératine range.
Rene Furterer philosphy " Beautiful hair grows from a healthy scalp, like a plant in fertile soil"
Its Origins
René Furterer's story takes root in Provence, France. Influenced by his grandmother, he became fascinated with botany at a very young age. Aware of the richness of flora and its fragrances, this visionary young hairdresser observed nature and a deep-seated belief was born in him: the beauty of hair, is inspired by that of plants. He understood that a head of hair flourishes from a scalp that is cared for, just as plants grow best in fertile, managed soil. He thus developed a method of scalp treatments and massages that would revolutionize hair care.
Some years later, the young René Furterer was working as a hairdresser in his wife's Parisian salon. At that time, women longed for the platinum curls of Marilyn Monroe, but no hair care products were available to repair the damage caused by so many styling techniques. The solution he devised was his Karité nourishing mask, which still today continues to revitalize and repair even the most damaged hair. He went on to create Complexe 5, a miraculous elixir of essential oils that has become an indispensable step in the beauty routine.
In 1957, René Furterer created a method he called Etheirology, an original philosophy built around a healthy scalp and beautiful hair (etheirology, from the Greek etheira, hair, and etheiro, to treat). He began practicing this approach in his first Hair Spa in Paris by developing a three-phase "Prepare, Cleanse, and Treat" method, which offers a custom treatment routine based on techniques carefully selected according to a sophisticated preliminary diagnosis.
The Method
3 steps that always carried on all their range 
Step 1 : PREPARE : 

Essential oils stimulate the scalp to activate micro-cirulation and leave scalp more receptive to the treatment.

Step 2 : CLEANSE : 

Key ingredients formulated to meet the needs of specific hair and scalp conditions

Step 3 : TREAT : 

Personalized product that nourishes deep down to reveal beautiful, healthy hair
YOUR SATISFACTION IS OUR ABSOLUTE HIGHEST PRIORITY. IF YOU HAVE ANY QUERIES RELATING TO YOUR ORDER, PLEASE USE THE FORM BELOW, AND WE WILL DO EVERYTHING WE CAN TO ASSIST YOU.
ORDER PROCESSING
Sales taxes will be calculated at checkout where applicable. 
We typically ship your order within 24 hours. Where possible, we try to ship the same day. During peak periods, there may be a delay of one day (but we sure try hard to avoid that). Order status will be emailed to you when your order ships.
DELIVERY
Delivery is free for all orders over 350 AED. Otherwise, delivery is 25 AED.
Once your order has shipped, it usually takes 3 business days. If you have not received after 3 days, feel free to contact us using our contact page.
RETURN
We love our customers and your satisfaction is very important to us. We will do everything we can to make you happy.
You can return your product up to 7 days after receiving your order. Please make sure that the products are not used or damaged. Any opened product shall not be refunded. 
 EXCHANGE
If you change your mind and wish to exchange a product, that's no problem. To be eligible, your item must be returned within 7 days of purchase. Please use a trackable shipping method, as we cannot be responsible for missing incoming deliveries. The goods must be unused, in the same condition you received them in and they must also be in the original packaging. We will charge a small freight fee to dispatch your replacement, depending on your location.
Please note 
Beaute.ae will not accept liability for lost orders if you select for your parcel to be left in a safe place or with a neighbour.
Beaute.ae will only consider claims for lost items sent 10 working days after the latest due date.
We think you might like these