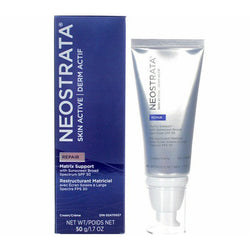 [Skin Active] Repair Matrix Support SPF30
Repair cells with Neostrata Skin Active Repair Matrix Support SPF 30. Rather than simply treating signs of aging on the surface of the skin, this cream targets the deep layers for more advanced results.
This anti- aging cream contains a variety of active ingredients, including peptides, NeoGlucosamine and retinol to improve the appearance of skin plumpness.

NeoGlucosamine and retinol diminish fine lines, wrinkles and promote firmness while advanced peptides encourage collagen synthesis. Coffee berry, pomegranate, and vitamin E deliver intense antioxidant protection. This product is non-comedogenic and contains UVA and UVB filters to protect skin against ageing and burning.

Neostrata Repair Matrix Support SPF 30 is ideal for dry, normal and oily skin types.

Neostrata is the science of skin regeneration!
We're on a mission to help people by helping their skin.
Our name translates to "new layers." Two words that perfectly describe our skincare philosophy that visible results come from renewing layers of the skin.
The NEOSTRATA® difference.
Our products exfoliate the surface layers of your skin, revealing fresh, new layers.

We develop our products at the ph level that your skin absorbs most effectively.

We target the building blocks of skin's matrix for long-term results.
We have been researching topical skincare ingredients for over 40 years, discovering and patenting some of the best-known technologies, like Glycolic Acid, which have been licensed within the skincare industry worldwide.
We think you might like these