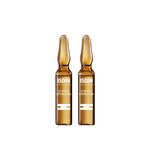 ISDINCEUTICS Flavo-C Ultraglican
ISDINCEUTICS Flavo-C Ultraglican Antioxidant Ampoules (10 ampoules) has an advanced combination of antioxidants and hydrating ingredients that neutralize free radicals and stimulate collagen synthesis, fighting lack of firmness and fine lines.
It is formulated for normal to dry skin and able to fight UV-ray damage to the skin so they should be included in a routine for preventing and fighting photoaging, granting a more luminous, firmer, plumped and even skin. After tests, 95% of users claim skin is brighter, 91% state their skin is more hydrated and 78% report wrinkles have visibly diminished.
Main Ingredients:
5% Vitamin C is a potent antioxidant which fights UV-ray damage and free radicals that are able to damage the skin's ability to repair itself;
Proteoglicans and pre-proteoglicans that constitute the Ultraglicans complex stimulate hyaluronic acid production and keep the skin hydrated;
Hyaluronic Acid helps to hydrate the skin and fill wrinkles and fine lines.
How to use:
Shake and break an ISDINCEUTICS Flavo-C Ultraglican Antioxidant ampoule and apply half of the serum onto cleansed dry skin every morning. Massage until the serum has been completely absorbed by the skin - the serum can be applied on the face, neck and chest, but eyes should be avoided. Use the other half of the ampoule within 24 hours.
As we age, our cell replacement rate slows down, causing the skin to become dull and dry. Collagen, the skins' building blocks, is more easily broken down and is much more difficult to rebuild, which causes the skin to sag and creates more wrinkles.
How fast the skin ages is affected by different factors but the biggest causes are genetics, UV rays and environmental pollution. The latter ages the skin due to the addition of free radicals into your skin which attacks the cells and breaks them down.
PRODUCTS AND INGREDIENTS TO LOOK FOR 
Mature skin needs extra moisture and, as with all skin types, daily protection to keep it healthy. Make sure to choose products that help the skin to repair damage as well as moisturise from within.
Retinol is a well documented ingredient designed to help mature skin. It stimulates collagen production and smoothes out fine lines. A good complement to UV protection are antioxidants to help maintain the skins' radiance. They protect the skin against free radicals and help to repair the cells in the skin.
Products with AHA acids will help remove old skin cells, increase cell regeneration and have a smoothing effect.
A rich night cream can also give your skin the extra moisture it needs.
When treating mature skin it is important to use a high SPF against both UVA and UVB rays.
Make sure to also take into account which skin type you have. Mature skin requires extra care but can also need tailored treatment, for example if your skin is reactive.
Check out our Instagram for amazing skin and hair care [
beaute.ae_

 

]
We think you might like these