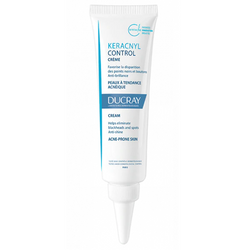 Ducray Keracnyl Cream Control is a purifying cream suitable for acne-prone skin.
Enriched with glycolic and salicylic acid, two ingredients known for their exfoliating properties, this light formula helps eliminate blackheads, all the while unclogging the pores and regulating excess sebum. The addition of myrtacine allows this cream to target the bacteria responsible for acne spots, further enhancing its effect on the skin.
After 4 weeks, blackheads and blemishes are significantly reduced, as confirmed by clinical trial volunteers.
Main Ingredients:
Glycolic acid effectively removes the outermost layer of dead cells from the complexion, revealing brighter, fresher skin underneath;
Salicylic acid aids in loosening and removing dead skin cells, exfoliating the skin, and unclogging the pores.
How to use:
Apply Ducray Keracnyl Cream Control once or twice a day on dry skin, after cleansing. May be used as a make-up primer.
Albert Ducray was born in 1901, just as a new century was dawning.

As a young hairdresser making his way in Belle Époque Paris, Albert Ducray was quick to observe the damaging and dulling effects of soap powders when used as shampoos. Between 1929 and 1931 this dermatologist's son created his own brand, Dr Ducray, and developed LIK Savon, a revolutionary range of single-dose shampoos adapted to different hair types.
Pierre Fabre : a key encounter
In 1969, Albert Ducray and Pierre Fabre, two men with a similar outlook on life and a shared ambition, met for the first time. Pierre Fabre Laboratories, already committed to cutting-edge hair care research, acquired Ducray.

This partnership gave the brand new momentum and further boosted its development.

The ongoing expansion led to the creation of the Extra-Gentle shampoo, presented at sales rep visits. As the first regular-use shampoo to respect the scalp's balance, it has become a hair care classic and has stood the test of time.

From hair loss to sensitive skin, a comprehensive range of expert care products was then launched to include treatment of the most common hair disorders.
From Hair To Skin
In the 1980s, strengthened by medical professionals' trust, Ducray took up a new challenge and developed Ictyane, which was to become a leader in dry skin care thanks to its revolutionary galenic composition. The brand continued its dermatological research and developed a range of targeted solutions to treat hair and skin disorders that can affect anyone. The 1990s saw another renowed range Keracnyl, who later to become one of the products most frequently prescribed by doctors for acne-prone skin***. By the 2000s, our products were being distributed right across the world. They are now available in more than 80 countries.
Acne is an extremely common skin condition that appears on the face, chest, back or shoulders and is caused by an overproduction of sebum in these areas. Bacteria, called P. Acnes, spreads itself within the sebum and causes inflammation. Acne commonly shows up during puberty when the androgens (sex hormones) start to appear. They then stimulate the sebaceous glands to produce an excess of sebum. Acne can also occur later in life due to factors such as hormonal imbalances.
Excess sebum combined with inadequate exfoliation of old skin cells is what causes blockages within your follicles and leads to blackheads. Very oily skin also tends to have an excess of bacteria that can cause inflammation within the blocked follicles, which leads to pimples. These types of inflammation can be much deeper which can lead to cysts.
TREATMENT
There are times that acne is bad enough to require medical treatment in order to control the situation and reduce the risk of scarring. Furthermore, medicinal treatment such as retinoids, benzoyl peroxide and antibiotics also run the risk of causing sun sensitivity in your skin.
Having a proper skin care routine can help the skin to maintain balance, soothe inflammation, strengthen the skins' barrier and protect against scarring. By controlling sebum production, increasing cell renewal, fighting bacterial infections and reducing inflammation you are well on your way to reducing symptoms that can cause new breakouts, without drying your skin.
Be sure to avoid squeezing your spots whenever possible, as doing so can cause the acne bacteria to spread and cause more breakouts. Inflamed, acne prone skin scars more easily or goes through pigment changes after you have squeezed the spot. UV light can stimulate inflammation in the skin which causes further outbreaks so be sure to use UV protection on a daily basis. Avoid hard scrubs that can spread acne bacteria around your face instead of cleansing it correctly, which accelerates the inflammation. A better alternative are acids that gently exfoliate from deep within. If you find yourself suffering with inflamed acne then it is recommended that you complement this with soothing products and be sure to thoroughly moisturise afterwards.
Ingredients to look out for
BHA (salicylic acid) has antibacterial and anti-inflammatory properties and is fat soluble, meaning it is well suited for more oily skin with blocked pores. It has the ability to exfoliate deep within the pores which dissolves the blockage because if this is left untreated, it would lead to inflammation of the skin.
Niacinamide (vitamin B3) reduces the skins' inflammation risk, inhibits the acne bacteria p. acnes and helps reduce scarring and discolouration.
Antioxidants help protect the skins' cells against free radicals and prevents inflammation and redness.
Mandelic acid is an AHA acid which is known for its antibacterial properties as well as its exfoliating effect.
Azelaic acid is an antibacterial antioxidant that soothes irritations in the skin and helps to control sebum production.
Retinol is a more mild form of the prescription vitamin A medication tretinoin. In most cases it can be tolerated by even the most sensitive skin types. It works to control sebum production and repairs the skin.
Check our instagram for amazing skin & hair care range
[

beaute.ae_

]
We think you might like these