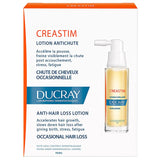 Creastim Anti-Hair Loss Lotion [Occasional Hair Loss]
Ducray Creastim Anti-Hair Loss Lotion is a completely original product that aims to minimize temporary hair loss and reactivate hair development.
Infused with biotin and vitamin B5, this lotion reverses the damage caused by seasonal and hormonal changes, physical and psychological stress, and aggressive hair treatments. The hair is restored to its natural density, strength and vitality, according to 84% of clinical trial volunteers.
Main Ingredients:
Biotin, a water-soluble vitamin that's a part of the vitamin B family, reduces inflammation and plays an important role in the health of the hair, skin, and nails;
Vitamin B5, also known as pantothenic acid, supports the adrenal glands, which helps stimulate hair development.
How to use:
Spray Ducray Creastim Anti-Hair Loss Lotion 10 times all over the entire head, ensuring that the product comes into contact with the scalp. Massage carefully, and do not rinse. Do not shampoo for the 2 following hours. For ideal results, use 3 times a week for 2 months.
Albert Ducray was born in 1901, just as a new century was dawning.

As a young hairdresser making his way in Belle Époque Paris, Albert Ducray was quick to observe the damaging and dulling effects of soap powders when used as shampoos. Between 1929 and 1931 this dermatologist's son created his own brand, Dr Ducray, and developed LIK Savon, a revolutionary range of single-dose shampoos adapted to different hair types.
Pierre Fabre : a key encounter
In 1969, Albert Ducray and Pierre Fabre, two men with a similar outlook on life and a shared ambition, met for the first time. Pierre Fabre Laboratories, already committed to cutting-edge hair care research, acquired Ducray.

This partnership gave the brand new momentum and further boosted its development.

The ongoing expansion led to the creation of the Extra-Gentle shampoo, presented at sales rep visits. As the first regular-use shampoo to respect the scalp's balance, it has become a hair care classic and has stood the test of time.

From hair loss to sensitive skin, a comprehensive range of expert care products was then launched to include treatment of the most common hair disorders.
From Hair To Skin
In the 1980s, strengthened by medical professionals' trust, Ducray took up a new challenge and developed Ictyane, which was to become a leader in dry skin care thanks to its revolutionary galenic composition. The brand continued its dermatological research and developed a range of targeted solutions to treat hair and skin disorders that can affect anyone. The 1990s saw another renowed range Keracnyl, who later to become one of the products most frequently prescribed by doctors for acne-prone skin***. By the 2000s, our products were being distributed right across the world. They are now available in more than 80 countries.
What is Hair Loss ?
New hair normally replaces the lost hair, but this doesn't always happen. Hair loss can develop gradually over years or happen abruptly. Hair loss can be permanent or temporary.
What causes hair Loss ?
First, your doctor will try to determine the underlying cause of your hair loss. The most common cause of hair loss is hereditary male- or female-pattern baldness.
If you have a family history of baldness, you may have this type of hair loss. Certain sex hormones can trigger hereditary hair loss. It may begin as early as puberty.
In some cases, hair loss may occur with a simple halt in the cycle of hair growth. Major illnesses, surgeries, or traumatic events can trigger hair loss. However, your hair will usually start growing back without treatment.
Hormonal changes can cause temporary hair loss. Examples include: pregnancy, childbirth, menopause
Medical conditions that can cause hair loss include: thyroid disease, alopecia areata

 

(an autoimmune disease that attacks hair follicles), scalp infections like

 

ringworm
Medications used to treat: cancer, high blood pressure, arthritis, depression, heart problems
A physical or emotional shock: a death in the family, extreme weight loss, a high fever
Traction hair loss can be due to hairstyles that put pressure on the follicles by pulling the hair back very tightly.
How to combat hair loss & hair thinning
1. Balance diet
Make sure you're eating a balanced diet that includes adequate amounts of iron and protein. Certain beauty regimens can worsen or cause hair loss.
2. Growth Supplements 
3. Delicate shampooing 
Unless you have extremely oily hair, consider washing your hair only every other day. If not, use a very mild shampoo.
4. Topicals gels
Do at home treatments to prevent and regrowth the hair. Crescina HFSC 100% Complete Treatment 1300 (10+10 vials) combines 2 formulations in one pack.
Crescina Re-Growth HFSC (amber vial) promotes physiological hair growth. Crescina Anti-Hair Loss HSSC helps prevent and hinder the physiological, non-pathological, causes of hair loss.
How to combat extreme hair loss 
For extreme cases surgical procedures, such as hair transplant are the best to treat baldness. It involves moving small plugs of skin, each with a few hairs, to bald parts of your scalp. This works well for people with inherited baldness since they typically loose hair on the top of the head. Because this type of hair loss is progressive, you would need multiple surgeries over time.
We think you might like these