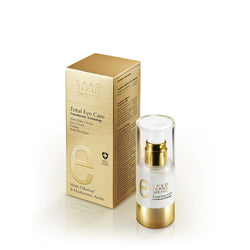 [e] Total Eye Care-Anti-Dark Circles Eye Cream
Labo Transdermic e Total Anti-Dark Circles Eye Cream does helps relieve  the accumulation of blood-derived substances that are not adequately excreted from the tissues. This stagnation is visible on the skin, which is brownish-red or purple.
The active ingredients in the anti-dark eye cream help to get rid of these residues: this way the skin and the lower eyelids will gradually regain their natural color and transparency. The immediate action is provided by the pigments, which give the cream a light light green color, which visually contrasts with the dark color under the eyes, instantly improving the image.

Transdermal Penetration Ingredients:
N -hydroxysuccinimide and Chrysin activates the removal of blood-derived pigments (bilirubin and iron) that are responsible for dark circles in the pericardial region in different ways on the layers of the skin.
How to use:
Slightly dab with your fingers until completely absorbed. Repeat morning and / or evening.
Labo Transdermic skin care brings up Face Treatments with the new Transdermic Technology. A World First, as it has Fillerina 8 Hyaluronic Acids. 
The skin is hardly permeable. In order to penetrate the different cutaneous layers, Labo researchers developed a "transdermic" technology based on the very low molecular weight of the active substances. This is the fundamental condition to guarantee their penetration exclusively in the cutaneous layers. It is precisely thanks to this controlled penetration that the active ingredients are really effective.
Differentiated Molecular Weight
Since 2007 Labo has developed a penetration system for the active molecules that is based on their differentiated molecular weight (transdermic activity). These studies led to Fillerina, whose filler effect lies on the penetration capability of its different hyaluronic acids.
Transdermic Penetration Technology
Labo further refined this process by means of a patented transdermic penetration technology and developed LABO TRANSDERMIC, a line of face cosmetic preparations containing active molecules with very low molecular weight: it is precisely this characteristic that makes them very effective products, the only one in the world.
Clear And Qualified Answers
Qualified and cutting edge answers are provided by only 4 products per each fundamental need of the skin (Anti-Age, Anti-Wrinkle, Hypersensitive, Clarifying, Moisturizing/Nourishing), together with differentiated formulations for eye contour and cleansing, plus 2 specific all-over preparations. From time to time in each preparation are inserted highly effective specific molecules with very low molecular weight and whose penetration capability at 24 hours has been experimentally tested and is reported on the external packaging.
8 Hyaluronic Acids
Thanks to their highly effective activity for all skin types, every preparation contains the 8 Hyaluronic Acid molecules of Fillerina complex.
Easy To Choose
A highly visible number on the external packaging corresponds to the need and considerably facilitates the choice and the suggestion of the product
As we age, our cell replacement rate slows down, causing the skin to become dull and dry. Collagen, the skins' building blocks, is more easily broken down and is much more difficult to rebuild, which causes the skin to sag and creates more wrinkles.
How fast the skin ages is affected by different factors but the biggest causes are genetics, UV rays and environmental pollution. The latter ages the skin due to the addition of free radicals into your skin which attacks the cells and breaks them down.
PRODUCTS AND INGREDIENTS TO LOOK FOR 
Mature skin needs extra moisture and, as with all skin types, daily protection to keep it healthy. Make sure to choose products that help the skin to repair damage as well as moisturise from within.
Retinol is a well documented ingredient designed to help mature skin. It stimulates collagen production and smoothes out fine lines. A good complement to UV protection are antioxidants to help maintain the skins' radiance. They protect the skin against free radicals and help to repair the cells in the skin.
Products with AHA acids will help remove old skin cells, increase cell regeneration and have a smoothing effect.
A rich night cream can also give your skin the extra moisture it needs.
When treating mature skin it is important to use a high SPF against both UVA and UVB rays.
Make sure to also take into account which skin type you have. Mature skin requires extra care but can also need tailored treatment, for example if your skin is reactive.
Check out our Instagram for amazing skin and hair care [
beaute.ae_

 

]
Hyaluronic acid is substance that is naturally produced by your body.
Its main function is to retain water to keep your tissues well lubricated and moist.
Hyaluronic acid has a variety of uses. Many people take it as a supplement, but it's also used in topical serums, eye drops and injections.
Topical treatments with hyaluronic acid helps to maintain a youthful-looking appearance by replenishing the hyaluronic acid content in our skin that diminishes as we grow older, which contributes to significant dryness, sagging and wrinkling.
Myth 
Hyaluronic Acid is NOT going to replace your elastin but, it can help with the appearance of tightness in the skin. As it fills the skin with moisture, hyaluronic acidtightens the overall complexion. It helps firm facial contours for a more youthful appearance.
Good Patient ?
The acid's ability to hold up to 1,000 times its weight in water. It is a fantastic hydrator for individuals with dry, eczema-prone or post-procedure (after chemical peel, laser treatment or resurfacing) skin.
What to look for 
Lots of topical treatments contain hyaluronic acid contain between 0.25 to 2.5 percent. However, at Beaute.ae, we feel that products with at least 1 percent for more a notable benefit.
Please note : Hyaluronic acid needs to be applied regularly for best effects because it sits on the skin surface (unless used in the injectable form).
Diane's tip : 
Hyaluronic Acid is great for anti-aging so yes it'll be great for under-eye wrinkles. No, you won't peel. ... Fortunately, we can replace that moisture by applying hyaluronic acid through products. It's safe definitely a skin care favorite used widely in the industry. So, during my skin care routine I apply my hyaluronic serum on my eyes area before applying my eye cream. 
We think you might like these