CND's Style Director Jan Arnold is the brains and beauty behind the brand, and has transformed the 30 year-old, family-founded company into a cult professional line. With cutting-edge technology like Shellac, an elite team of nail artists behind her, and a never-ending roster of designer clients (Marc Jacobs, Jason Wu, and The Blonds, and to name a few), Arnold is a central character in the 21st century nail art movement.
 What is Vinylux ? 
CND™ VINYLUX™ Long Wear Polish delivers week long wear—and care—in two simple steps.
The system consists of an all-in-one base and color coat and a top coat, which must be used together for ultimate performance.

Interview from Victoria Stanell with Jan Arnold, CND Creative Director. 
B: CND essentially began with a dentist appointment?
Yes! My dad was a dentist and chemist, and was fitting a custom crown on his patient one day who happened to be a manicurist. She commented how similar the compound smelled to her salon, and the bright idea went off for nail application. He gave my brother and I the patent, and we decided to start CND. That was the formulation basis for our first monomer nail product, SolarNail™ Liquid.
B: Your dad just gave the patent to you and your brother? Amazing!
It was definitely his gift to us. He knew it would revolutionize the industry. We applied for a loan, and immediately got approval after I did a nail enhancement on the banker.
B: So CND is science-based, but into fashion, too?
Totally. Geeks in the fashion world, creative in science and tech—we're kind of a split-personality company. Left-brained and right-brained.
B: Your wardrobe is totally inspired. Are you sure you weren't destined to be a designer?
I've always loved fashion and studied it for awhile at FIT. I couldn't stand pattern-making, though—I loved the styling and the merchandising side more. It was always about the whole look to me.
B: What sparked the initial connection between fashion and nails?
16 years ago, all you saw was bare nails on the runway. Back then [the '90s], the makeup and hair were really beautiful and sculpted, but the hands were totally forgotten. We had to do something, so we phoned then-emerging designer Cynthia Rowley on a whim. She was doing watercolors that season, so we created veils of iridescence over the nails.
B: Gorgeous! How did everyone react after CND's runway debut?
Press and media went wild. It really gave a fresh perspective on Cynthia's collection, and other designers definitely noticed. After, we hooked up with Nicole Miller and Carolina Herrera, and did 75 shows a season the first five years at Fashion Week.
B: 75 shows in one season?! That's a little insane. What's a typical season like now?
We've since calmed down to around 25 shows per season in New York. There are usually 10 to 20 artists on call, and we hand-design around 7000 tips total. We're working year-round in New York, Paris, Milan, London, and Australia, but New York's definitely the busiest. We usually set up a 24-hour working studio.
B: What's the craziest runway nail design you've done in the past 15 years?
Honestly, no material is off limits. We've used glass, studs, enameled Fabergé-like eggs, dragon sculptures, lava lamps, 24k gold, computer chips, and bark. For Kimora Lee Simmons' "From Russia With Love" collection we hand-sculpted badges on the nails, modeled after real Russian military badges.
B: You've collaborated with every designer under the sun. Who's your favorite?
I can't choose! Diego Binetti has an amazing vision, and collaborating with The Blonds is always a blast—we share a similar aesthetic. I've also worked with Louis Vuitton for several seasons in Paris and worked with Marc Jacobs in New York and it's been amazing. It's really something when Marc Jacobs sits with your team and custom mixes nail colors to a minutia of detail. He sees it. He gets it. The nails make the belt, the bag, the outfit. It's a total vision.
B: Tell us about the nail look at The Blonds' latest show—the custom tips killed it on the runway!
We did "biker-babe" worthy manicures using crushed glass shards, acid-wash finishes, and leather—yes, leather—to create over 30 unique sets.
B: Thoughts on the rising popularity of nail art over the past five years?
With the advances in technology like Shellac, this generation has taken nail design to an unprecedented level. Baby boomers grew up grooming their hands, so it's only natural that their kids push the envelope further. I mean, our goal in all of this was to elevate the status of the nail through science and creativity. It's the easiest way to display your alter ego, a different shade of your personality. You never run out of good ideas if you pay attention, and I'm interested to see what happens next.
B: Thanks for an awesome day! What drink did you pour me?
Chili-pepper vodka—doesn't it taste fabulous?
---
"I found this rare runway piece at the Wynn in Las Vegas and my husband insisted I buy it. It's feminine yet otherworldly—the chiffon, the rough edges, the high structure. I have to be amused by my clothing and a piece like that fits the bill. It flutters."
Coat: Alexander McQueen, Trousers: Boudicca
CND Shellac in Black Pool, gold nugget glitter, and ultra-fine silver glitter
---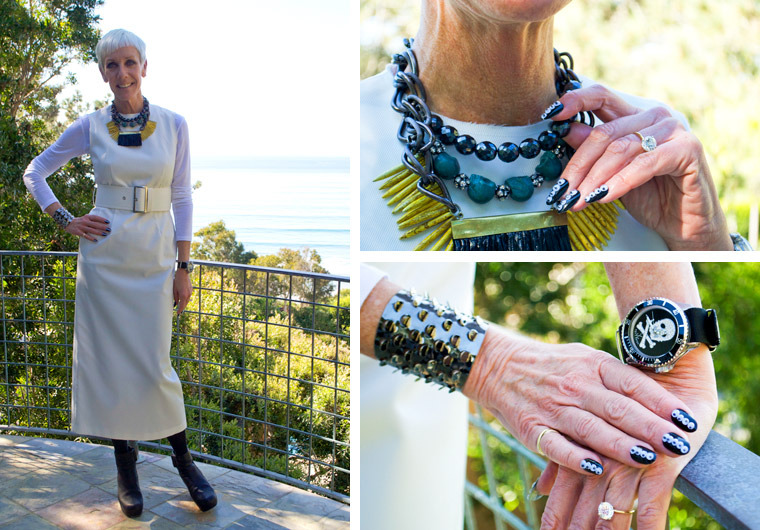 ---
"The nails add a humorous graphic design element. They make people smile, and they work so well against this snowy, minimalist number."
Dress: COMME des GARÇONS/Shoes: Rick Owens
CND Shellac in Black Pool and craft-store google Eyes
---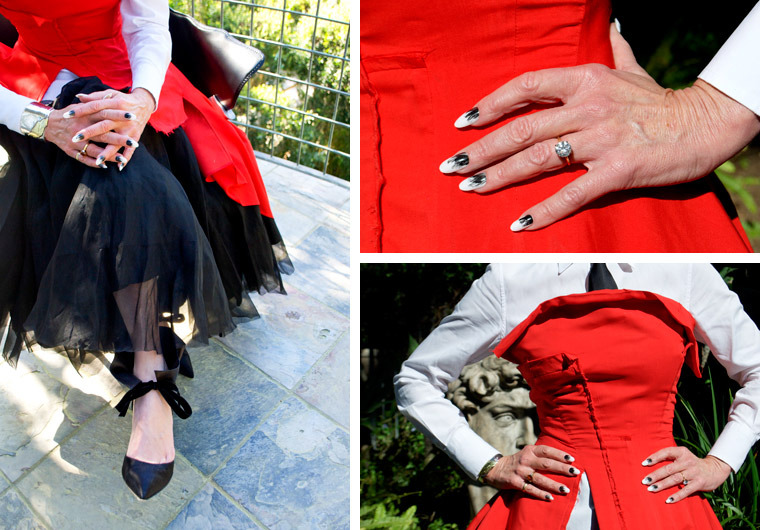 ---
"The nails were inspired by
 

Wayne's previous runway show, a birds of prey theme. White swan with graffiti feather textures. They originally wanted the feathers at the tip, but switched last minute to the cuticle. The wispy textures contrast the outfit's high structure. Masculine femmé."

Corset: Yohji Yamamoto, Skirts: Miu Miu, Blouse: Etro, Tie: Gucci, Shoes: Manolo Blahnik

CND Color in Cream Puff and Black Jack
---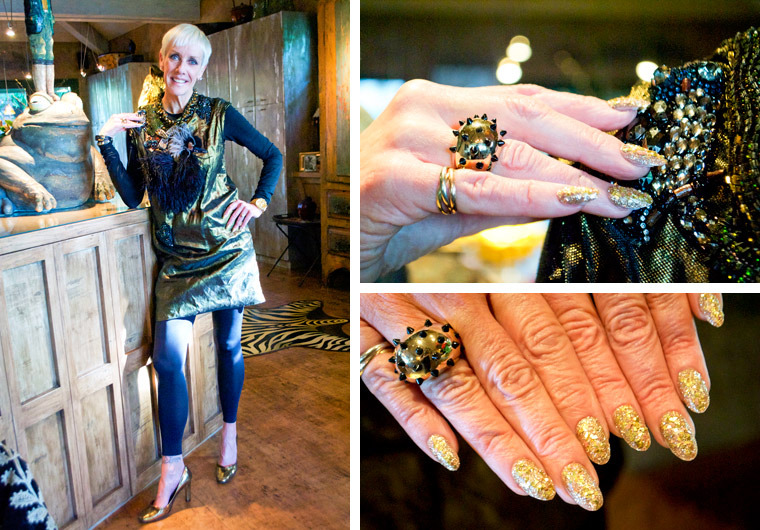 ---
"Danger! Lanvin's beastly beaded shift dress demands an equally hostile manicure. Gorgeous peach shards of glass weaponize your tips. You can't go demure with Lanvin."
Dress: Lanvin, Ring: Cartier
CND Color in Desert Suede, smoky quartz glitter, and vintage copper and gold glass
---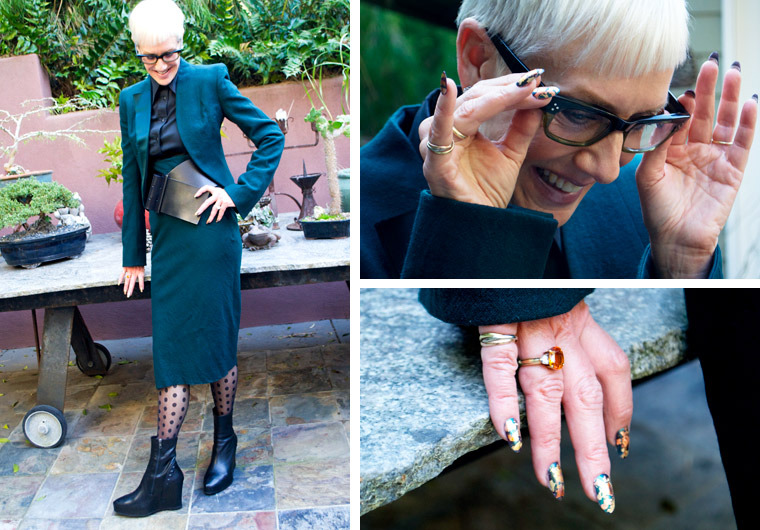 ---
"Earthy and textured, this new twist on fall color mixes teal, forest, and rusty cognac with mica shine to create corporate camouflage."
Suit and Boots: Haider Ackermann, Blouse: Gucci, Optics: Oliver Peoples
CND Shellac in Dark Lava, Gold Nugget Leafing in Copper and Gold, CND Nail Color in Iced Coral
---