HOW To Choose Self-Tan For Your Skin Tone
Tanning expert James Harknett believes we can all benefit from self-tan, regardless of our natural skin colour. "Woman have applied make-up for thousands of years to complement their appearance," he says, "an all-over tan can work in the same way by defining bone structure, accentuating the natural contours of the body and for many camouflaging pigmentation, age spots and unevenness on the skin."
Battle with 'chicken skin' on the backs of your arms? "Self-tan can take attention away from raised redness," Harknett notes as an example, plus it's "also proven to sit well on cases of eczema".
However, like finding the right foundation shade, the self-tan shelves can be a beauty battleground. Even if you've deciphered which formula and intensity you want (a dark mousse is not equal to a light mist, of course), every option seems to look different on every body.
Having tried each brand under the sun (and many on his A-list army of clients), Harknett told us how to choose the perfect product, whatever your complexion.
For pale skin tones
"When choosing self-tan for fair skin or redheads, gradual tans are ideal," he explains. "Gradual tanners contain less tanning agent than normal, thus allowing you to build and create the tan best suited for you." The expert recommends Fake Bake Fair, a gentle gradual tanner created for fair skin types. "What's so unique about it opposed to others is that it has a slight guide colour in the formula that allows you to see where you are applying it. Most gradual tanners are cream coloured and therefore rely on a very even application – this can be tricky if you miss an area as it creates a blotch or streak. Another gradual formula is Fabulous Self Tanning by Vita Liberata. "Although a heftier price point, the formula in infused with skin caring properties that battle dehydration and deliver a silky feeling to the skin." He says this is ideal for skin that can go red and burn in the sun. However, "If you are fair and tend to have more yellow tones in your skin, avoid a red based self-tanner as this can come out a little orangey," he says. 
For medium skin tones
For those with skin tones between light and dark, the self-tan choice is wider and you might want to give mousse a whirl. "Tanning mousses are still the most popular with tanners at home due to the ease and simplicity of application." Plus, most mousse formulas dry in minutes which helps when it comes to application pre-dressing or getting into bed.
If you're naturally quite golden, try the Madame LA LA Tan mousse, which Harknett says "gives that 'I've just been away' look, but still allowing you to look like you. The tinted foam can be spread fast along the limbs leaving a golden mate finish." If your skin turns more of a reddish brown with a real suntan, it's likely you have cool undertones. "Sienna X products complement more of a red skin tone base," the pro told us, and formulas are numerous - from a gradual milk to mousse and sprays.
"Fake Bake works beautifully with an olive skin tone," Harknett notes, given the brand's (undetectable) green base. As does Xen-Tan Dark Lotion Absolute Luxe which specifically gives olive-toned results, he says.
For dark skin tones
Even if you're born with a beautiful tan you can still enhance it with some bottled bronze. As Harknett reiterates, "it will also mask blemishes and even-out the skin tone", plus he says, "dark skin types tend to be oilier, which can hold self-tan for longer as the tanning agent doesn't dehydrate as much." Bonus. Those that tan quickly in the sun have a wide selection of faux glows to choose from he says, including Tan Luxe Illuminating Tan Drops (available for face and body) and Fake Bake Flawless Darker for the body (a liquid with maximum levels of organic DHA). For an instant glow try the St Tropez Dry Luxe Oil which adds a beautiful luminosity that can later be washed off.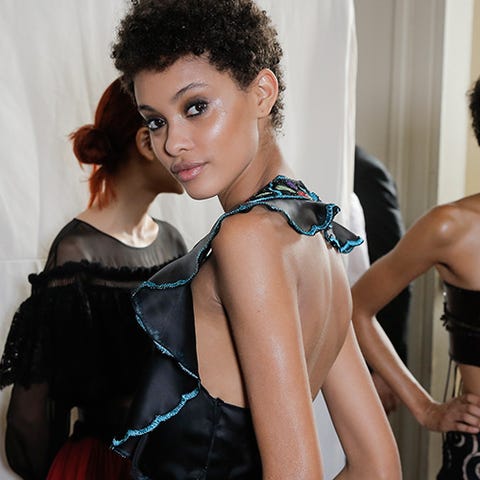 Top application tips for your skin type
Once you find the perfect product combine it with pro application. Firstly, exfoliation is essential. "Just one good scrub, no matter what your skin type, the morning or evening before tanning will give the most accurate results," Harknett says. "Remember self-tan clings to our dead skin," meaning a there's potential for a patchy look if you don't exfoliate properly.
"For blondes and those with fair complexions, don't forget to tie your hair back or wear a shower cap when tanning," Harknett advises – as you may end up colouring your locks, too. "Protect any hair still showing along with your brows with a dab of Vaseline."
Pale skins that are conscious of going from fair to over-tanned should introduce colour subtly. "Try the Clarins Radiance-Plus Golden Glow Booster (for body or face) which can be mixed with your existing night cream or moisturiser to build up a glow. Just ensure you blend evenly into the hairline and don't forget a little behind the ears too."
While olive and darker tones can be bolder with tanning – as noted above – remember, "the stronger the tan, the more chance of the skin feeling dehydrated and a little taught," Harknett reveals. So if you don't have oily skin and are using a darker product, try adding "a gentle layer of moisture over the skin to lock in some hydration".
The ultimate shortcut to self-tanning success is to book a pro application with an expert. A highly rated one can tell in an instant what brand will suit your skin tone to achieve a warm glow that no one will guess is faux. "They can then advise on what top-up and at home products will suit you," Harknett says, so you'll never get it wrong again.
Article from www.harpersbazaar.com